Ryoko Akama is a Japanese sound artist, composer, and performer currently based in the UK. She runs the melange edition label and co-edits reductive journal (mumei publishing).
This interview was conducted by email between August 10th and September 13th, 2016.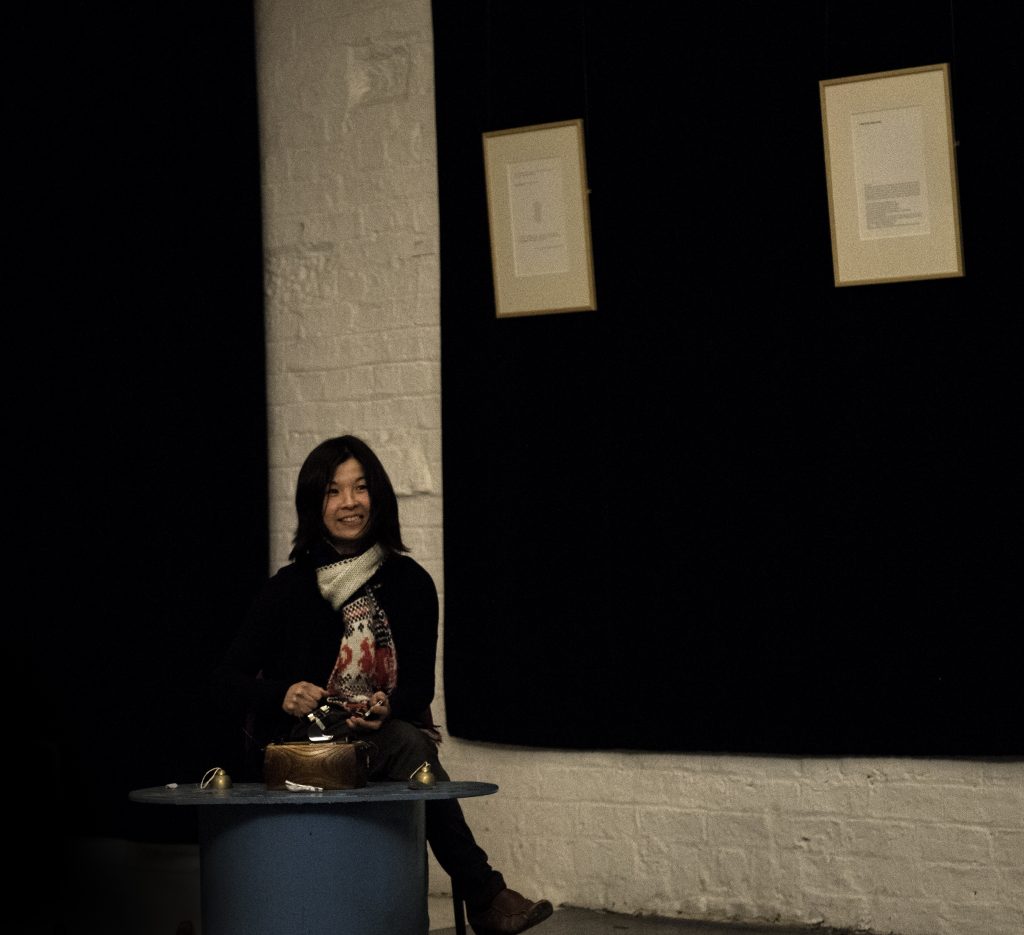 Can you talk about one or two of your early or most meaningful encounters with experimental music?
John Lennon
During my teens, I was mad about the Beatles. I was fascinated by George Harrison (an entrance to Eastern music and philosophy) and John Lennon (an entrance to political and contemporary thinking). I still find some works like No.9 incredible! Then, I was drawn to understand the influential power that Yoko Ono had on me. She as a starting point, I kept searching experimental art and music from Fluxus to the rest.
Eliane Radigue
I was introduced to Eliane Radigue in 2003-4 when I was still making more composed and structured electronic music in London. Eliane herself and Emmanuel [Holterbach], who was archiving her past electronic works, led me to listen to pieces such as Adnos I – III or Trilogie De La Mort that radically liberated my listening, experiencing and artistic thinking. This overlapped with the time when I moved into a very inhabited land. I lived in the quiet but full-of- noise nature for five years. The environment then was one of the main reasons for me to appreciate what I do now. Coincidentally or deliberately, I also began to learn Japanese traditional instrument and singing, which exposed me to various Japanese aesthetics of nothingness.
…is this what you expected? Please let me know.
It's not what I expected, but in the best possible way. I love to be surprised in these things. What is it that is compelling to you about this field [of experimental music]? How does it connect with your experience more broadly? [Or maybe that could be phrased, what do you find that it offers you as a person?]
Experimental music is a home and studio. It is irresistibly fun to live in and work with. It offers me broad possibilities, inspirations and liberations. Being a part of the community in this field makes me feel alive and happy. This is my way of processing, living and continuing. However much I become aware of the scene, I discover a new composer, performer or sound artist every now and then, either from the past or present, which is miracle. In the same way, you can continue finding something new in yourself too. Finding something new makes me realise the world is endlessly vast and unknown. It is a wondrous surprise but actually-meeting-with-them, whether work or person, is an intimate marvel which gives me feelings similar to a family union! I am then able to communicate, to share, to understand and to be understood.
Working experimentally is like a conversation of monologue and dialogue. An experimenting quest is natural and important in my life. I speak of this only with own experiences. I am fascinated by works that have a notion of absence and emptiness but carry elements of the concise and real. Great works (this could be quite subjective) evoke visceral excitements and I simply live for it.
I tend to work on various pieces simultaneously between times when I deal with daily matters and lots of thinkings as a person on earth. I structure my own space, that is partially the music and art, between chaos and order, planning and improvising. Everything is an offer and sculpts time and space for me.
Again you've caught me by surprise in so many ways. You're talking about your musical life in the midst of the rest of your life, and they are both real things that speak to each other. An earlier version of the question asked, is it a metaphor for experience or a real experience or both? I feel like you answered that question too without my asking it.
What does this mean? Which question? Sorry, I'm a little confused here.
Don't worry! It was a confusing question so that's why I didn't ask it. Just to try to explain, sometimes the behaviors or qualities of experimental music are used to express other possibilities. So for example the ways Christian Wolff has people interact in his pieces can operate as analogies for ways that interactions can happen outside of music as well. They suggest possibilities. Or silences or extended durations could suggest a situation such as an open space or a meditative experience. On the other hand, they could also provide a direct opportunity for such an experience.
I guess it's the difference between, a) I'm finding a metaphor or an example of something I am seeking out in life, and b) this thing I have found is directly enriching my life. This is all very roughly said, but maybe it makes it a little more clear?
Silence or space are experienced together, and they are one, that is open and liberated. I never think of it as the meditative though, which is more of a listener's perception. In my practice, I create opportunities to experience empty matters, or small matters that magnify emptiness. This 'experience' is listening, seeing, being, sensing and so on. I also consider variations of 'experiences' and 'memories of experiences'.
My aim remains the same despite of the use of different forms; minimalistic composition, extended durational composition or more material-based sound installation. It is the 余白 (yohaku; space of the imaginary and paucity) that I am trying to embody and emphasise. In this sense, it perhaps can be the metaphor for other experiences as well as experience itself because I do think a lot about this yohaku whilst doing other activities such as reading, cooking, walking, or making conversations with some people.
This question reminded me of one book. A Japanese writer Yasushi Sato once said in his essay that he knew his back was not any different from a carpenter's parent's, referring to a Japanese proverb – the children grow up seeing the back of the parents. He implied that a creative activity, which was 'writing' for him, was no more superior than any other jobs. We are a very lucky bunch those who are able to value experimental music and pursue a creative life, but it is nothing superior. You mentioned Christian Wolff's Prose Scores. I love these score works because they are so simple yet intricate, complex and refined, but nothing egoistic or arrogant. This is a very difficult thing to achieve, more than one thinks. The afore-mentioned Sato's novels are the same, so particular but modest and delicate. Perhaps, because these are not too separate from life itself.
Do you identify with other musical genres or practices alongside this one? How do you find they complement each other? Where are the overlaps?
I can identify my musical practice with aesthetics of Wandelweiser or a particular group of sound artists (But are they still experimental scene which we are talking about here?) I listen to diverse genres of music. I also watch films, read books and visit exhibitions as much as I can (not as much as I want to). I cannot imagine getting rid of any of these out of my life! Some works simply entertain me but others become important ingredients to my experimental thinking. The other thing is the network of knowledge. You find a new book that tells you about an unknown artist who delivers you an interesting message, and so on. A discovery continues. So, various practices do complement each other in many ways.
People such as Jürg Frey and Sarah Hughes consider 'compositions' in a very similar way to how I perceive them. I compose and embody my subjective matters throughout various materials. Whether I am with score sketches, a collection of empty bottles, electronic gadgets, or rustic brasses from the skip, I am in the midst of composing 'where is' and 'where is not'. I am fascinated by formal and structural transformations that different materials provoke in listening and experiencing space. An initial intention or idea of my works arrive in the middle of process. Then, I begin nourishing this small ball of intention over a long time. Whilst maturing the intention, I encounter with more inspirations and influences. Everything overlaps in nurturing my next work.
Most people I know in this field tend to have more than one type of role within it: composer, performer, improviser, teacher, writer, critic, organizer, curator, supporter, producer, etc. What are the main roles you have taken on, and do you find that they complement each other?
I compose and perform text scores. I recently restarted to improvise but I am careful with who to improvise with as I become an useless performer with those who like to 'fill in' rather than 'reduce out'. But I enjoy more of the improvising situation because one can really experience intimate integrity with the space/local and temporal happenings caused by collaborative task-making. I work with installations, and recently more visual works. I curate concerts and events, and sometimes program workshops and projects. I co-run melange edition and mumei publishing (reductive journal). These activities are all fed into each other as if they are one sequence in a state of flux. My pivotal intent, which is my core interest, is always in here, so other boundaries can be abstract.
What are the communities that you feel most a part of, if any, within this field?
I find it difficult to answer 'where I feel most a part of', but I can certainly list up who or which community I feel connected to in aesthetic senses. I think Set Ensemble (UK) is a superb ensemble which I would like to be a part of, and have already entreated for it! I feel very close to what Wandelweiser composers and performers, and these who work around Wandelweiser music, have been achieving in terms of space and silence in music. Simultaneously, my practice also finds itself at home with particular sound artists who respect space and silence in their events. When I spent time in Berlin, I did sense the community atmosphere that I felt utterly comfortable with. StudioAcht and Labor Sonor, for example, were marvellous spaces. Then, the Japanese artist/musician community surrounding Ftarri Shop in Tokyo is also delightful. I miss a certain group of musicians in Switzerland, USA and Canada who I have worked with too. It is not a community but Q-O2 in Belgium and FUSE in North England have marvellous spaces that all of us in this field should go and visit if possible.
The field we are in is perhaps a particularly small world of experimental music but that is why we speak of our community internationally and very fondly. I mean, very fondly.
What are you working on now?
I have just completed recording quite a large scale composition, places and pages, with Cristián Alvear, Cyril Bondi, Christian Müller, D'incise and Stefan Thut, and am writing the twenty-one commentaries regarding the piece for Glissando magazine curated by Pawel Szroniak. I am also writing an article on Shiomi Mieko and Taku Sugimoto for the next edition of the online journal Sound American. There will be a new mumei journal, a renewed name for reductive journal that I have been co-editing, FIVE with a guest curator Audra Wolowiec, and some great releases on melange edition soon. I am also co-directing AME (Art/Music/Experimental) that will deliver concerts and exhibitions in North England. We hope to invite national and international composers and artists to examine the experimental music scene in this rural area.
I will be performing a lot with a diverse group of people including lo wie and Miki Yui in October and November 2016. My proposal series composition keeps continuing to increase in number, and I am currently making _six, _seven and _eight for different performers, which I am very much looking forward to. Most importantly, I am now looking into short residencies so that I am able to embody my ideas as sound installations in specific spaces.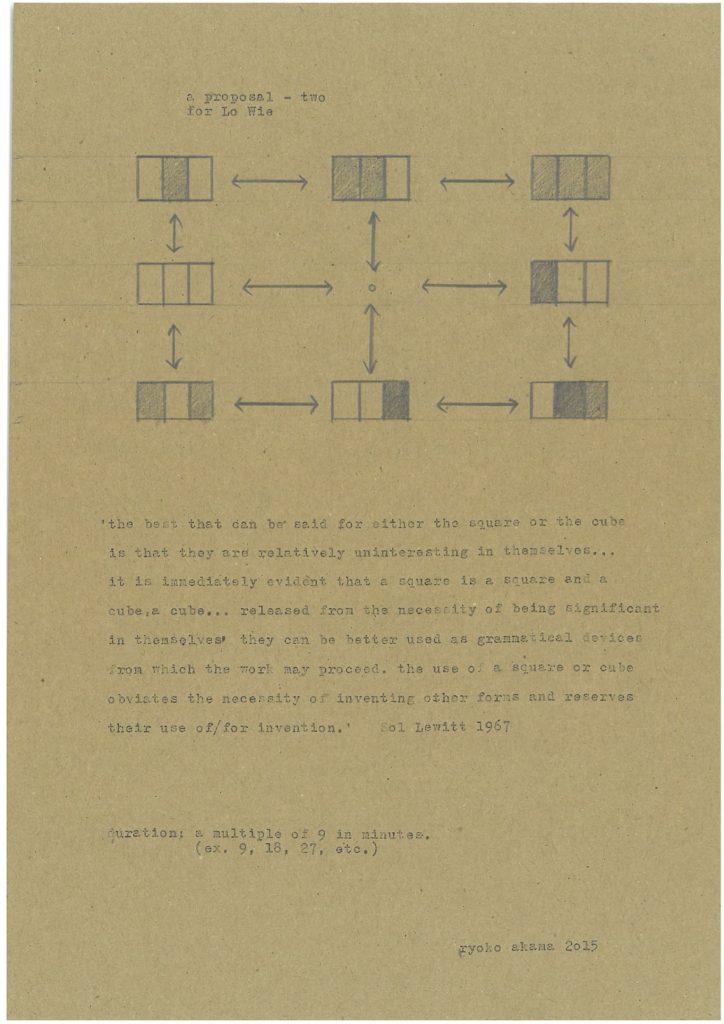 What work or topics are you most excited about these days? 
I am mostly excited about my studio time alone. I don't particularly intend to work alone but as I am far away from big cities and living in the countryside, everything becomes somehow self-taught and self-pursuing. Then, I have the more social side of life, meeting people and finding wonderful works in various occasions. Because my environment is not 100% in the art culture, I don't take anything for granted. So, when I feel connected to something/someone, I get incredibly excited. I am interested by works that structure (compose) time and space in a very particular way. Recently, I was moved by experiencing works of Arjan Janssen, Mona Hatoum, Anne-F Jacques, Joseph Kudirka, Joseph Clayton Mills, Alexander Calder (there was a retrospective solo exhibition at Tate which was superb), Not Vital, Taku Sugimoto… I have been discovering a lot of films that can nurture space in viewers' mind as well. It is not about genre for me but is about minimalistic approaches, and their wonders and confidence to embody the ideas and intents, that make me tuned into where I am.
What could be done to improve/enrich/support this field
You mean, quality-wise or promotion-wise, or both?
However you think it most needs to be supported, or whichever side is more interesting to you. Both would be fine, but only if you feel you want to answer both. 
No boundary between academics and non-academics. Much better balance between female and male creators. Collaboration between broader genres of composers, performers and artists. Stronger support to practitioners by buying their physical projects such as CDs, artworks and books. More diverse and risky choices by curators. Less hierarchy.