Many of the events I was planning to list for the month of December have come and gone, but here are two that are still available.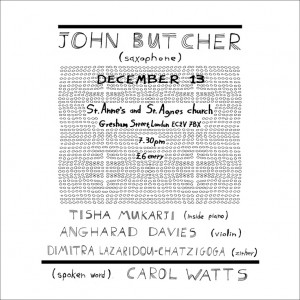 Sounds and Words
December 13, 7:30pm
St Anne's and St Agnes church
Gresham Street, London
£6 entry
A rare chance to hear a trio of Berlin-based Tisha Mukarji playing inside piano, with the prepared violin of Angharad Davies, and Dimitra Lazaridou-Chatzigoga on zither – a meeting of three sensitive musicians in music of delicate poise and warm elegance. Also on the programme, the legendary sound of John Butcher, and the spoken word of Carol Watts.
---
For the rest of the month, there is a sale on all six discs of Michael Pisaro's Gravity Wave label. Find out more on the site and on the facebook page (including links to many reviews). I have them all, and I want more. This is really beautiful work.
Sound and Music has two conversations posted on SoundCloud that are relevant to these events:
Poetry as Score: Will Montgomery in discussion with Antoine Beuger, Michael Pisaro and Manfred Werder
Hidden Music: Angharad Davies